I just got through with a DIY build for an LCD viewfinder that worked out better than I had hoped.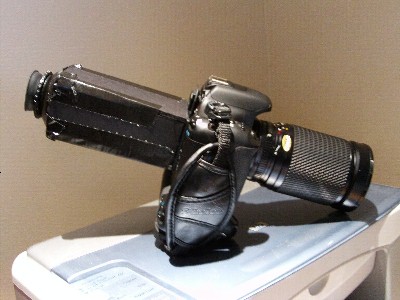 Homely but effective
I would love to be able to afford one of those cool Zacuto rigs that you see all over the place, but the $340 plus price tag has been keeping me at bay.
Unfortunately, one day out in the sun with the T2i trying to see the damn LCD was almost enough to make me crack the sacred credit card open and order one, but then I figured I could make one for myself.
As "Top Gear's" Jeremy Clarkson puts it; "How hard could it be?"
Actually not that hard at all, it was mostly a matter of finding just the right parts and I was able to make the whole thing for under $40
I believe now that by replacing the $10 37mm lens hood with some sort of square pill bottle the price could easily go below the $30 mark which is still a good bit cheaper than the lowest priced knockoff on Ebay that runs somewhere between $80 and $100
It's not the prettiest attachment in the world, but do you think the audience will care about what the gear looks like when they watch your masterpiece?
Here's the whole thing as posted on YouTube:
It's in 4 parts for the sake of convenience, I think it's a lot easier to go through a short video looking for a specific point rather than a long, drawn out one.
Enjoy! I'd love to hear about variations and improvements everyone can come up with